FREE Bodybuilding Book
Learn the Fastest way to
Build Muscle, Lose Fat,
Increase Strength and Power!
Enter your first name and a valid email address for free instant access
to the workout secrets book.

Pumped Extreme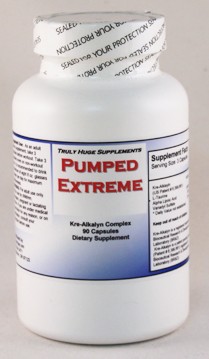 Kre Alkalyn Creatine
Pumped Extreme Kre Alkalyn Creatine supplement is the only 100% bioavailable creatine supplement with 100% absorption and zero toxic conversion. It's like "creatine on steroids" because it also contains anabolic boosters that support amazing workouts and wicked pumps!
Each 3 cap serving contains:
Kre-Alkalyn 1400 mg
Alpha Lipoic Acid 50 mg
L-Taurine 600 mg
Vanadyl Sulfate 20 mg
So stop gagging down suposed "high-tech" sugar filled creatine drinks, and just take 3 of these bad boys a day and see what Creatine really can do for your strength and muscle size!

Pumped Extreme Kre-Alkalyn Supplement 90 Capsules only $39.95 Plus $7.00 S&H

And in addition, you'll get our FREE "Muscle Volumizing Course" the secrets for obtaining maximum muscle size!

To order by phone call:
1-800-635-8970
10 am to 6 pm PST