FREE Bodybuilding Book
Learn the Fastest way to
Build Muscle, Lose Fat,
Increase Strength and Power!
Enter your first name and a valid email address for free instant access
to the workout secrets book.

Herbal Fat Melter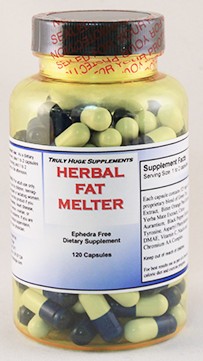 Fat Burner Supplement
Herbal Fat Melter is a highly powerful thermogenic fat burner supplement. Fat Melter will help increase your metabolism while burning calories and helping your body burn fat more efficiently. Fat Melter's synergistic formula also suppresses the appetite. A superior weight loss product for those looking for serious results!
Each Capsule Contains:
Each capsule contains 525 mgs of a proprietary blend of Green Tea Extract, Bitter Orange Peel Extract, Yerba Mate Extract, Citrus Aurantium, Black Pepper Extract, Tyrosine, Aspartyl Phenylalanine, DMAE, Vitamin C, Niacin and Chromium AA Complex.
Herbal Fat Melter Supplement 120 Capsules Only $29.95 plus $8.00 S&H ($37.95 Total)
Order now and get a FREE six week fat loss manual!

To order by phone call:
1-800-635-8970
10 am to 6 pm PST