FREE Bodybuilding Book
Learn the Fastest way to
Build Muscle, Lose Fat,
Increase Strength and Power!
Enter your first name and a valid email address for free instant access
to the workout secrets book.

Andro Shock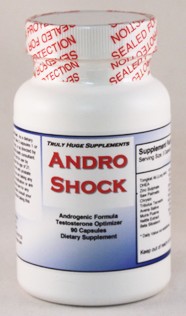 Testosterone Booster

Andro Shock may be the most potent legal testosterone support stack sold as a safe alternative to steroids with 10 dietary supplement ingredients that are believed to help boost your body's own natural testosterone levels.

Andro Shock is a potent stack of ten legal ingredients. Each serving (3 capsules) contains the following:

100 mg. Tongkat Ali (Long Jack), 100 mg. DHEA, 30 mg. Zinc Sulphate, 200 mg. Saw Palmetto, 150 mg. Chrysin, 350 mg. Tribulus Terrestris, 100 mg Avena Sativa, 250 mg. Muira Puma, 300 mg. Nettle Extract and 30mg. Betasistosterol.

As a dietary supplement, take 3 capsules 1 or 2 times a day, or as directed by your qualified health consultant.

Andro Shock 90 Capsules is Now Only $69.95 plus $5.00 S&H ($74.95 Total)

And if you order now, you'll get the special report, "How To Raise Testosterone Levels Naturally". Shows you how to train, diet, etc. to support maximum testosterone levels, a $20 value, absolutely FREE!

To order by phone call:
1-800-635-8970
10 am to 6 pm PST